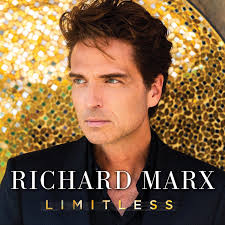 Tracklist
03
Love Affair That Lasts Forever
08
Strong Enough (feat. Jana Kramer)
10
Break My Heart Tonight
Description
Richard Marx announces the release of his new album "Limitless", which will be released by BMG on February 7, 2020. Limitless is his first album with completely original songs in six years and his first album for BMG. It was partly produced by Richard himself and co-written by Sara Bareilles, his son Lucas Marx and his wife Daisy Fuentes. While he closed a chapter in his life with his last album "Beautiful Goodbye", the he has a new one with "LIMITLESS". His current single Another One Down has already been in the Top 15 of the Adult Contemporary Charts for six weeks. He wrote the song together with his son Lucas, which he describes as a joyful experience.

Richard Marx has sold over 30 million albums worldwide, won a Grammy and is still the only male artist whose first seven singles reached the Top 5 of the Billboard Charts. He is not only a musician, but also a dedicated philanthropist. He supports the American Cancer Society, the Cystic Fibrosis Foundation and the Ronald McDonald House charity, as well as Mercy For Animals, the ASPCA, the Humane Society and the St. Jude Children s Research Hospital.

From the end of 2019 until February 2020 Richard Marx will tour North America and play intimate concerts from the east to the west coast. He will perform in San Franciso, Atlantic City and Niagara Falls, among others. With All The Hits Once Incredible Night Live! he will also come to Germany for 6 dates.