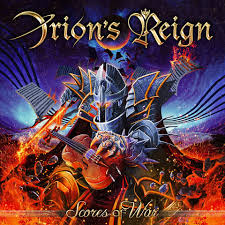 Tracklist
06
Freedom Is Not Negotiable.
Description
Orion's Reign are back with their second studio album. It bears the name "Scores of War".and will be released on 19.10.2018 by Pride & Joy Music.

The album was recorded, mixed and mastered at Fascination Street Studios (Powerwolf, Arch Enemy, Dragonforce, Amorphis etc.) in Sweden by Jens Bergen, Linus Corneliusson and Orion's Reign. It uncounts 11 epic, symphonic metal tracks.

With "Scores Of War" the Greeks continue the musical path they took with their predecessor "Nuclear Winter" with consequence: a symphonic sound, which is mainly influenced by epic movie soundtracks and here by a complete orchestra. is performed with support. Bombastic rhythms, massive choirs and guest appearances of Tim Ripper Owens (Judas Priest, Iced Earth), Bob Katsionis (Firewind), Mark Boals (Malmsteen) complete the album.

This release offers a varied sound - from symphonic speed metal to almost operatic passages to catchy hard rock - everything is represented. The single "The Undefeated Gaul" is the first release from the album; a track with sharp riffs, a hard rhythm troupe and fast guitar solos!