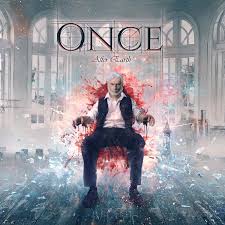 Tracklist
06
The Hour Of Eden's Fall
10
Insane Schemes Of Sanity
12
Epilogue (a Memento Of Our Hiraeth)
Description
ONCE is a metal band from North Rhine-Westphalia (Germany) that describes their music style as Dramatic Metal. ONCE's style is strongly inspired by neo-romantic film music and plays with the Elements of a typical Aristotelian drama structure, combined with heavy guitars and drums.

Both lyrically and musically, the listener is woven into a story and gets insights into the artistic world of the band. ONCE was founded in 2012 under Frank Wypchol, Alina Lesnik, Marco Paulzen and Alexander Hey. Already in 2013 ONCE filmed the acoustic versions of the songs My Fairytale and Distorted Smiles as part of a university project of the ArtEZ Conservatorium Enschede/Netherlands. ONCE then worked on their demo EP, which was released in 2015.

With their music video for the single The Hour Of Edens Fall they gave a first insight into the upcoming debut album AFTER EARTH, which will be released on 19.10.2018 by Pride & Joy Music.