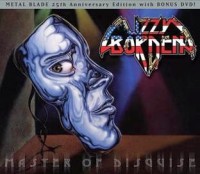 Tracklist
10
Oll Over And Play Dead
01
The Making Of Master Of Disguise
02
Inside The Recording Studio
03
The Mix - Mixing In Toronto, Kanada Mit Terry Brown
04
Inside The Rehearsal - Probenfόr Die Mod-tour
05
Master Of Disguise Tour - Livein Usa, Mexiko, England Und D
06
Videos - 2 Mtv Videos "we Gotthe Power" Und "love Is A Crim
07
Murderess Metal Road Show, Inkl. Interview, Photo Gallery
Description
2007, Metalblade Records and Lizzy Borden are proud to announce the reissue of His 1989 original recording of Master of Disguise on March 6th. Special features will include: A re-master of the original Disc * Liner notes
written by Producer of Master of Disguise Elliot Solomon * A bonus (Demo) track "Vampires Kiss" never before
released. * Plus "The Orchestra" mixed separately by Elliot Solomon. A very special DVD (under the mask) * The making of Master of Disguise: Directed by Lizzy. * The DVD will take you on a six month journey, Starting with Lizzy Borden on stage performing Master of Disguise for the very first time in December 1988 at the Roxy theatre in Hollywood California, one month before recording began. * Inside the recording studio in Burbank CA. with producers Elliot Solomon and Alex Woltman. Featuring a cast of musicians assembled just for MOD (Including a full orchestra conducted by William kidd) * The mix in Toronto Canada With legendary producer Terry Brown. * And then off to rehearsals for the MOD tour. * Finally Lizzy Borden Brings the Master of Disguise show to the world's stage With highlights being Philadelphia, Mexico, England and Germany * The DVD will also include the two MTV videos shot for Master of Disguise "We got the power" and "Love is a crime".