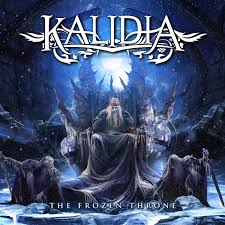 Tracklist
05
To The Darkness I Belong
Description
When the band Kalidia debuted in 2014 with "Lies' Device", the video accompanying the title track caused quite a stir. Kalidia went on tour in their native Italy, Germany and the UK, supporting Rhapsody Of Fire, Serenity, Cellar Darling, Ancient Bards and others. Nicoletta Rosellini, the singer, received an extra portion of attention when she joined the Rhapsody Reunion.

The new album, "The Frozen Throne" was produced by Lars Rettkowitz [Freedom Call], mastered by Achim Köhler [Primal Fear, Amon Amarth] and the artwork was written by Stan W Decker [Vanden Plas, Primal Fear].

The band is unmistakably inspired by classic power metal bands like Rhapsody of Fire, Hammerfall and Stratovarius, but also new acts like Beast In Black have an influence on the band, which appears classic as well as fresh.