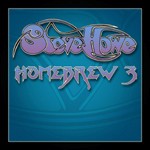 Tracklist
08
In The Course Of The Day
Description
2005, "Homebrew 3" takes listeners on a voyage of discovery that leads us, initially to his solo albums from the 90's - from "Turbulence" to "Quantum Guitar". After digressing briefly with the preparations for Yes' album "Magnification" and ABWH, a collaboration Howe did with past and present Yes members Jon Anderson, Bill Bruford and Rick Wakeman, it finally ends with ideas for the GTR album, the power rock project Steve did with Steve Hackett.
In extensive liner notes, Howe not only reveals which instruments he recorded his home demos with, but also describes what kind of changes his compositions underwent on the way from the recordings you can hear on this album through to the final mix. So for instance Howe explains that he played the song "No Deceiving" for the orchestrated record "Magnification" just with guitar accompaniment to the other Yes musicians, hoping the song would be left the way it was. Eventually it became the song "Soft As A Dove", with an added orchestral arrangement. Elsewhere guitar themes became patterns for vocal melodies such as in "The Main Title" which later became "Nothing's Any Good Anymore". This also worked the other way around as with "Just A Passing Phase", which here still features Steve's vocals but was later released as an instrumental on "The Grand Scheme Of Things".
The demos compiled here once again show Howe's broad stylistic spectrum. "Homebrew 3" offers up grand prog riffs in tracks like "Turbulence" and "The Last Word", dreamy pedal steel guitar in "From Door To Door", "The Main Title" often recalls "Soon", the wistful Yes piece from "Relayer". There is also the bluesy solo featured in "Solar Winds", and the gentle acoustic guitar of songs such as "Suddenly" or "Pyramidology".
"Homebrew 3" invites the listener to revisit the original Yes, GTR, and Howe albums and compare them with these demo versions, which proves to be a fascinating and worthwhile pastime.