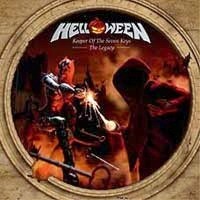 Tracklist
02
Light The Universe (feat. Candice Night)
03
Do You Know What You`re Fighting 4?
Description
2005, Few albums in the history of the German heavy metal scene enjoy as legendary a reputation as Helloween's Keeper Of The Seven Keys, Part I & II. More or less over night, their two 1987 and 1988 cult releases catapulted the band from Hamburg among the international elite of metal music, where they have been reigning - except for a brief interruption - without
noticeable signs of wear or tear. On October 31, 2005, 17 years after the arrival of Keeper II, Helloween are due to present the album's legitimate successor: Keeper Of The 7 Keys - The Legacy. In summer 2005, the current line-up consisting of Andi Deris (vocals), Michael Weikath (guitar), Markus Großkopf (bass), Sascha Gerstner (guitar) and new addition Dani Loeble (ex-Rawhead Rexx, drums) presents Helloween as a stronger band than they have been for a long time. Even more pronounced than other recent compositions, the new tracks feature complex arrangements, numerous tempo changes, intricate breaks and epic sonic landscapes. Initial comments on the new album are already talking of a landmark release. Helloween 2005 are as awesome as ever!