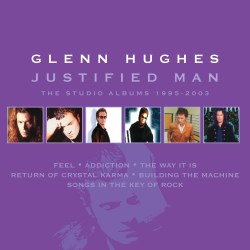 Tracklist
03
Does It Mean That Much To You?
04
Save Me Tonight (i'll Be Waiting)
10
I Don't Want To Live That Way Again
11
Way Back To The Bone (live)
13
You Fool No One (live)
07
The Truth Will Set Me Free
13
Freedom (shagmeister Mix)
04
I Just Want To Celebrate
05
Don't Let It Slip Away
12
Cosmic Spell (japan Bonus Track)
04
Higher Places (song For Bonzo)
06
Written All Over Your Face
11
Higher Places (reprise)
12
Secret Life (european Bonus Track)
13
Change (japan Bonus Track)
Description
Glenn Hughes, The Voice Of Rock, first came to prominence in Trapeze, a band featuring future Whitesnake guitarist Mel Galley, and future Judas Priest drummer, Dave Holland. Following their third album, You Are The Music, We're Just The Band, Glenn joined Deep Purple in 1973 for their Burn, Stormbringer and Come Taste The Band albums. Deep Purple split in 1976, with its members following various solo and side-projects. The first fruits of Glenn's post Purple career appeared with Play Me Out (also available on Purple Records), issued in July 1977. Glenn would go on to collaborate with Pat Thrall in Hughes-Thrall, Joe Lynn Turner in the Hughes-Turner Project, with Tony Iommi in Black Sabbath, plus pursue a prolific solo career through the 1990s and beyond.