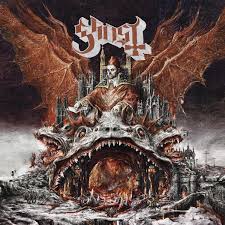 Description
After enormous chart successes in the USA with their predecessor albums, the Grammy® award-winning
GHOST from Sweden on to the final jump into the Rock Olymp! Your most successful third album "Meliora" debuted in the States at number 1 of the Independent Retail Charts, at number 2 of the Rock charts and even landed in the top 10 of the Billboard Top 200 album chart. It sold more than a quarter of a million times worldwide. The EP "Popestar" even cracked the following number 1 of Billboard's Top Rock Album Charts!

With GHOST's fourth studio album "Prequelle" everything in this country is now turned upside down. After
the impending downfall ("Opus Eponymous", 2010), the Antichrist and the Inquisition "("Infestimum", 2013), humanism and greed ("Meliora", 2015) will now thematically deal with the plague, of the apocalypse and the dark age!