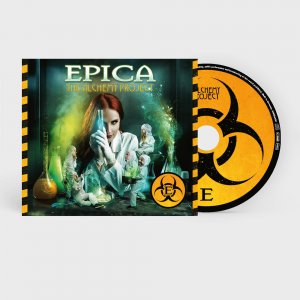 Tracklist
04
Sirens - Of Blood And Water:
Description
Ever onward, ever upward: In the 20 years of their existence, EPICA have never shied away from challenges, weathered every storm and pushed the symphonic metal genre to heights no one would ever have dared to believe.

With a cryptic and surprisingly humorous artwork by Heilemania, EPICA embarks on a journey through seven extraordinary new songs. Together with various selected guests - from extremists like Fleshgod Apocalypse, Niilo Sevänen (Insomnium) and Björn ?Speed? Strid (Soilwork) over melodic masters like Tommy Karevik (Kamelot), keyboard legend Phil Lanzon (Uriah Heep) or Roel van Helden (Powerwolf) to a unique song with Simone Simons, Charlotte Wessels and Myrkur - EPICA have once again outdone themselves. The result is an amazing release that even surpasses the usual range of an EPICA record: "The Great Tribulation" gets even heavier and more massive with Fleshgod Apocalypse, the Rainbow-like epic "Wake The World" features Phil Lanzon's virtuoso keyboard playing and Tommy Karevik's sublime voice, while "Sirens - Of Blood And Water" brings together the outstanding other-worldly vocal talent of Simone Simons,Charlotte Wessels and Myrkur for the first time. A new classic of the symphonic metal genre is born.