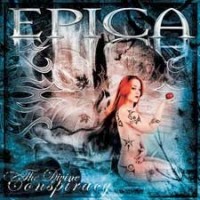 Tracklist
06
La'petach Chatat Rovetz - The Last Embrace
07
Death Of A Dream - The Embrace That Smothers Part Vii
08
Living A Lie - The Embrace - That Smothers Part Viii
09
Fools Of Damnation - The Embrace That Smothers Part Ix
Description
2007, When EPICA formed in 2002, everyone knew that something unique was on its way to conquer the music industry. Even though every album of the Dutch band got a good response for every album (justifiably as every album was a masterpiece), "The Divine Conspiracy" will be EPICAs break through. The album is their most varied and heaviest work up to date - combined with sophisticated song writing. "The Divine Conspiracy" was once again produced
by renownend producer Sascha Paeth in the famous Gate Studios. A glorious new gothic metalopus album by a great group!
The initial pressing appears in a ltd.ed. digipack version. As long as stock remains.