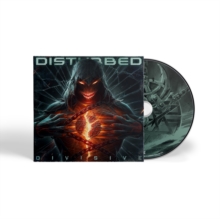 Tracklist
07
Don't Tell Me (feat. Ann Wilson)
Description
On November 18, the new album "Divisive" will be released, already now Disturbed "Unstoppable" Disturbed are gearing up for a new era: Their eighth longplayer " Divisive" will be released on November 18, 2022 via Reprise Records. Already now you can hear "Unstoppable", a new single from the album.

Frontman David Draiman says about " Divisive" : "You get more and more the impression that our present time is accompanied by tribal feuds. People seem to be caught in one big war of hostile clans. The album was meant as a kind of wake-up call. Our society is so riddled with anger and music can be a cure for that and live music can be an outlet to forget all that shit. If we get into it, we may even find that we have more in common than previously thought."

Dan Donegan , guitarist of the band, adds, "We can only face the problems together. On the many tours around the world we have learned that music is a universal language that brings together people from all walks of life. We were able to connect people with our songs, which we are quite proud of ." "Divisive" is a precise, energetic hard rock opus. The ten tracks were recorded over the past year by the quartet along with producer Drew Fulk [Motionless In White, Lil Peep, Highly Suspect] in Nashville, Tennessee.