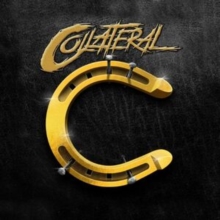 Tracklist
01
Merry Go Round (feat. Kelby Ray/the Cadillac 3)
02
Mr. Big Shot (feat. Jeff Scott Soto)
03
Promiseland (feat. Phil X/bon Jovi)
04
Midnight Queen (feat. Danny Vaughn/tyketto)
05
About This Boy (feat. Sari Schorr)
06
Lullaby (feat. Joel Hoekstra)
07
Won't Stop Me Dreaming (feat. Kee Marcello (europe) & Helen Hurd)
08
In It For Love (feat. Rudy Sarzo/quiet Riot)
09
Get Back To You (feat. Paul Jackson/blackberry Smoke)
Description
COLLATERAL are back touring as intensely as they were prior to covid. With UK wide tours with RECKLESS LOVE, HEAT and SKID ROW, Collateral are gaining more momentum than ever and are back at the forefront of rock fans worldwide.

COLLATERAL have decided to re-release their debut album before unleashing the official 2nd studio album next year. Previously released in February 2020 the album managed a top 5 position in the UK OFFICIAL ROCK CHARTS. Now with its re-birth called "RE-WIRED" the album has been re-mixed and re mastered but it doesn't end there!

Each track has a special guest featured. Angelo Tristan had this to say about the re-release.
"Our debut album came out just before covid hit. We were halfway through a tour with Phil X promoting it when suddenly the world shut down so we weren't able to get the album out there as much as we would have liked. We thought this album had so much more to give so decided to call a few of our friends around the world to ask if they would be interested in jumping on it. I didn't expect the response to be so epic and now with the songs re mixed and re mastered with the added extra of some badass names on it, this album sounds like it should have done in the first place. Big, powerful and emotional! It sets us up nicely for our 2nd studio album early next year."

To match the buzz, the boys in Collateral have announced their new single 'SIN IN THE CITY'. The Motley Crue esq stadium riffs and Bon Jovi sized chorus melodies will wipe the cobwebs off the dazed and will be sure to get any crowd off their feet from the first chord.

Front man Angelo Tristan says "This track shows a raw, darker and fun side to us than anything we've released to date. You can see that when we play it live to a packed-out home crowd in London. Everyone just loses their minds!" Lead guitarist Todd Winger simply puts, "It's a dirty riffing banger! My new favourite to play live!! Get ya dancing shoes on!"