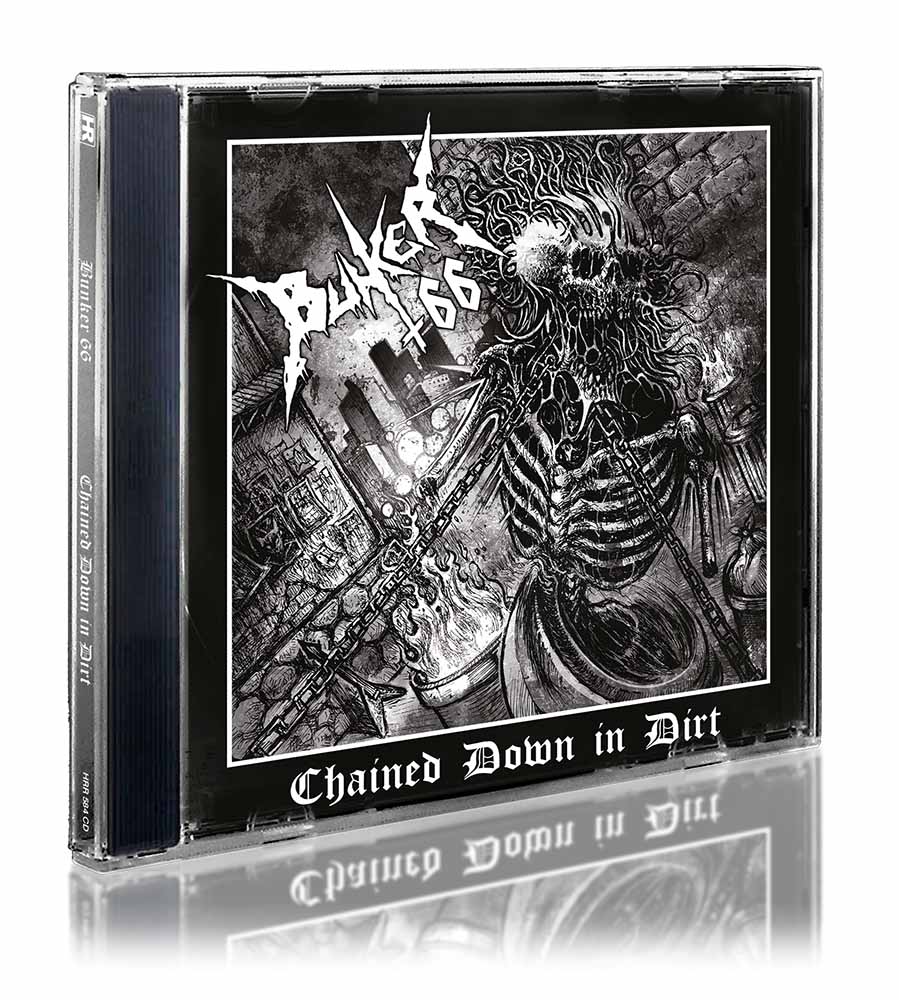 Tracklist
07
Power Of The Black Torch
Description
If I ever would pick up a definition for our sound that would be "black speed metal".

Hailing from Messina, Sicily, Bunker 66 was founded ten years ago and is still alive today maily due to the fact that they are having a good time together. With the third full-length record at hand, this hard-to-define outlet is facing a massive anniversary. But as much or rather little as Bunker 66 does not have any goals, they don't believe in anniversaries. And the fact that "Chained Down in Dirt" is being released this very year was nothing anyone has planned. "It's a mere coincidence, but it's a good feeling to be still here and playing the music we love," says drummer Dee Dee Altar. Having fun, recording their noise and playing it live is what kept the trio, that was born out of a necessity, alive all these years.
But of course some things do change over the course of time. Since guitarist Bone Incinerator called it's quits, the songwriting progress has significantly changed: Before everything was mainly done while jamming, now almost all the riffs take shape in the minds of the band members before rehearsing together. When it comes to the overall sound and the new lineup, featuring J.J. Priestkiller on guitars, things have become more aggressive and thrashier and also D.Thorne's vocals are more evil and manic. A first hint of what to expect from this new sound is most well displayed on the split record with Morbo that was released in 2016. Still the three-piece can hardly be put into any certain part of the Metal genre and they're not into categorisations anyways, as Dee Dee Altar points out: "We aren't easy to define, that's a good thing!"
"Chained Down in Dirt" is not only a landmark regarding the first decade of band history, but also a step into another direction when it comes to atmosphere. There is no plot behind the album, each song has its mood and lyrics. This time Bunker 66 is dealing with evil topics and metal metaphors with the exeption of one song. "Wastelands of Grey" deals with something different, as it's a song about work alienation. "Chained Down in Dirt" is the first album after B. Incinerator has left the band and was replaced by J.J. Priestkiller in late 2015. Compared to the previous one "Screaming Rock Believers", it has a completely different approach. After a first pre-production phase in May 2016, the entire recording process took place at the Bunker 66 rehearsal room in Sicily in late 2016. And since the new guy also happens to be a soundfreak, they used all of his equipment. "Just the mastering was done by Patrick Engel, who already worked with us on our first full-lenght "Infernö Interceptörs", cheers to him!"
And while the Venom attitude will always be there, delusions on "Chained Down in Dirt" were avoided in advance, as there are no comparisons, like it was the case with its predecessor. "We tried to find the "Don't Break the Oath" guitar sound on our previous album but yeah, we failed...On this newborn child the only thing that mattered to us was to have an organic, warm and natural sound, as usual." "Women, leather and hell" is what Bunker 66 has listed as the band interests on facebook and this is exactly what the new record sounds like.
The artwork for "Chained Down in Dirt" was done by Swedish artist JDW Death my only Friend Artworks. Drummer Dee Dee Altar remembers: "We wanted a darker artwork because this new album is way more evil and aggressive if compared to our previous one."
As the for new album Bunker 66 strongly advises you to just put the needle on the record, play it loud and die wasted!