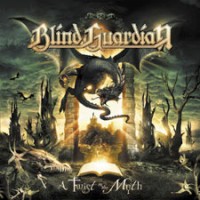 Tracklist
05
Carry The Blessed Home
07
Straight Through The Mirror
Description
2006, All at once the fog thins out and gives a beautiful view over a wonderful, unknown fantasy world, which is absolutely breathtaking. The landscape shines in a mysterios twilight of the setting sun, sinister dragons are swaying through the clear air. Where the endless vastness is touching the the land, you can see the silhouettes of four shapes, proceeding determined with unflinchingly countenances, for they shepherd a sparkling treasure. A silver disk shines in their middle, created to proceed with the history of Germanys most successful Metal band in artful letters. The disc will be engraved on a new page in the big book of music history.
Defacto, the new album "A Twist In The Myth" really salvages the key to the gates of another reality - a reality in which musical borders are blurred and compensated by innovative perfection. Weighty rhythms push dark clouds across the nightly sky in order to be discharged in a thunderstorm of drums and guitars. On the next morning the clouds yield the harmonic sunbeams full of brilliant melodies. The eleven songs of the CD are fed by memorable energy and creativity, every track is a multi-layered piece of art. The single "Fly" already showed that the ringbearers from Krefeld escaped from the Shire to get inspirations in the most diverse spheres. The traditional sound of Blind Guardian still builds a stable base of the record, the peerless voice of singer Hansi Kürsch brings a multitude of sincerely emotions to the listener and pleases with it´s inconstancies. Refreshing and brave are the new influences in the music. Monumental choir parts were interchanged by a huge portion of heaviness. This bridges the past and the future of the companions.
"Another Stranger Me" - a groundbreaking video was shot for this - documents the development of the band, while "Turn The Page" and "Skalds And Shadows" invites you to a party in best Hobbit manner.