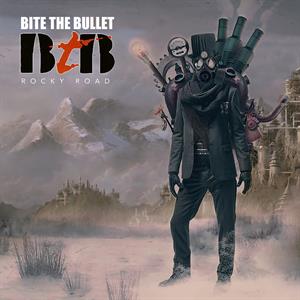 Tracklist
03
Digging That Hole 4:10
Description
Recorded at Toucan Studio Northampton and Rock Hard Music Milton Keynes. Produced by Mick Benton.

The Musicians: Mick Benton - lead vocals, guitars, bass and keyboards Graham Cowling - drums Malcolm Jones - guitar Ant King - bass, backing vocals Steve Hill - keyboards, backing vocals

Rocky Road is the new album from Bite The Bullet who's previous offerings include 'Bite The Bullet' 1989 and 2019 (Jet Records/CBS and Rock Candy Records), 'Black and White' 2021 (Escape Music) and 'End of the Line' 2022 (Escape Music).

Originally formed in 1986 by Mick Benton, who had previously released a solo EP on Atlantic Records, and Graham Cowling along with Malcolm Jones the bands first album was widely acclaimed at the time on both sides of the Atlantic and received air play on major radio stations. However with demise of Jet Records and lack of publicity from CBS, coupled with the loss of worldwide support tour with the supergroup ELO, the band went into a 30 year hiatus.

Mick, Graham and Malcolm carried on in cover bands playing hundreds of gigs in the UK and the BTB project was put on hold. In 2019 Mick was approached by Rock Candy Records and the original album was re-released. This rekindled Mick and Graham to write new Bite The Bullet songs and they released 'Black & White' in 2021 on Escape Music, followed by 'End of the Line' also on Escape Music in 2022, this time with original guitarist Malcolm Jones rejoining the band.

Over the last few months the band has recruited new members Ant King on bass and Steve Hill on keyboards in order to play BTB's music 'live' again and to record their latest album 'Rocky Road' .

The bands music is melodic rock in the genre of Mr Mister, Toto, Foreigner and Asia with British rock guitar overtones. The new album is loaded with 11 brand new tracks ranging from the dark hypnotic rocker Dead Man Walking to the beautifully melodic ballad Waiting For You.