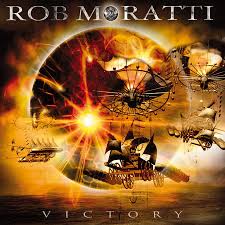 Tracklist
02
Everything But Goodbye
09
Standing On Top Of The World
12
Don't You Look Back Now
Description
Victory is the first solo album of the Canadian prog rocker Rob Moratti. As an active artist he was besides his time as frontman and singer of the rock legend SAGA (2008-2011) already involved in various projects and gained a lot of experience and musical knowledge from who later became the melodic heart of Victory.

The catchy songs with tight sounds and vocals were recorded with the help of some guest musicians in a
quality that is at the forefront of the AOR genre. To the album highlights include the opener Life On The Line and the more atmospheric On and One. Besides the 11 original album tracks this Music On Vinyl Edition with Don't You Look Back Now still contains a bonus track.

Rob Moratti joined the band Moratti in the early 90s as a songwriter and lead singer. in appearance. After recording two albums with this band he moved on and took over the leading role in the band Final Frontier, with whom he recorded a total of four albums.