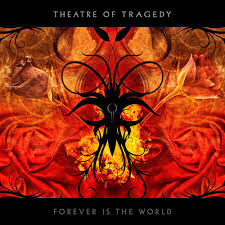 Tracklist
11
The Breaking (bonus Track)
Description
THEATRE OF TRAGEDY wrote mid-90s albums like "Velvet Darkness They Fear" and "Aegis" music history. Never before has a band combined a dark male voice with of an enchanting, bright female voice on this scale. No one could have known that the mixture offers such an extraordinary variety of dark and atmospheric shades that would eventually make Gothic Rock/Metal so popular.

THEATRE OF TRAGEDY have always been and always will be unique. "Forever Is The World", originally released in 2009, continues the path of "Storm", only without the electronic elements and with a more natural sound. Compared to "Storm", which is used in was a back to the roots album in many respects, the new work completely renounces the electronic elements. It shows mature songwriting full of ideas, which returns much more to the gothic rock base. The contrast between Nells and Raymonds creates an unbelievably dense atmosphere throughout the whole album and underlines once again why this is the case.

band is still at the top of their genre. The album was released at Room13 Studios in Oslo.with producer Alexander Møklebust (known for his work with Zeromancer, Seigmen,Monomen, Delaware and many others...). Responsible for the mastering is Bjørn Engelmann (CuttingRoom,Sweden). "Forever Is The World" is now available again as a limited vinyl edition in two new colours (red and white/red speckled).