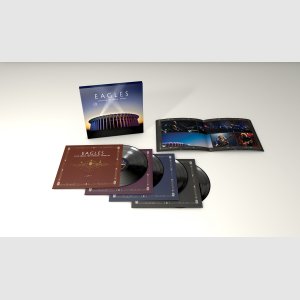 Tracklist
02
Joe Walsh: "how Ya Doin?"
05
Don Henley: "good Evening, Ladies And Gentlemen"
09
Timothy B. Schmit: "hey, Everybody, That's Joe Walsh"
12
Don Henley: "just Want To Thank All Of You..."
14
Deacon Frey: "hello, Everybody..."
18
Love Will Keep Us Alive
19
Vince Gill: "how About A Nice Hand For California, Man..."
20
Don't Let Our Love Start Slippin' Away
03
Joe Walsh: "is Everybody Ok?"
Description
The Eagles spent most of 2018 on an extensive North American tour, featuring Don Henley, Joe Walsh and Timothy B. Schmit with Vince Gill and Deacon Frey. Accompanied by praise from fans and critics alike, the quintet gathered at the Forum in Los Angeles to play three sold-out, acclaimed concerts on September 12, 14 and 15. Highlights of all three concerts have now been turned into a 26-song live album and concert film which will be released on October 16 as "Live from The Forum MMXVIII" about Rhino.

You can look forward to the ultimate live performances of some of the band's most legendary hits ("Hotel California," "Take It Easy," "Life In The Fast Lane," "Desperado") and popular album tracks ("Ol' 55," "Those Shoes"), as well as some of the band members' greatest solo mashers (Henley's "Boys Of Summer," Walsh's "Rocky Mountain Way" and Gill's "Don't Let Our
Love Start Slippin' Away").