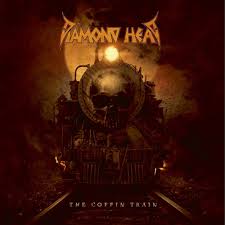 Description
Diamond Head, the New Wave of British Heavy Metal pioneers born in Stourbridge, England, return to the world stage with a new album. The Coffin Train is fresh and exuberant at the same time and on top of that a tough classic of the old school heavy metal track. It's packed to the brim with riffs with which founding member (and riff lord!) Brian Tatler led a genre and with which he strongly influenced one or the other band.

Diamond Head was founded in 1976 under the direction of guitarist Brian Tatler and quickly established itself as a pioneer of the exploding New Wave of British Heavy Metal scene. With their genreprägenden debut album Lightning To The Nations Diamond Head became the band, which opened the gates for many Metal bands until today and supplied infinitely much inspiration. The Coffin Train, Diamond Head's eighth studio album, is an excellent testimony to Brian Tatler and Rasmus Bom Andersen's masterful ability to find the ingredients needed to create a first-class Diamond Head album.

Diamond Head has succeeded in delivering an album in purest heavy metal intensity and make a powerful statement that will lead to both The Coffin Train and DH 2.0 will reach more fans than ever before.