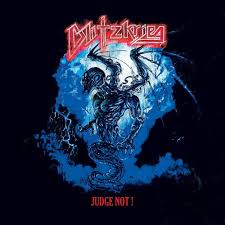 Tracklist
05
Forever Is A Long Time
06
All Hell Is Breaking Loose
09
Wide Legged And Headless
10
Judge Not, Lest You Yourself Be Judged
Description
BLITZKRIEG will start on April 27th via Mighty Music with their new longplayer "Judge Not". The UK
-Quintet from Newcastle is already looking forward to the release, as guitarist Ken Johnson explains:
"This will be the band's first newly recorded material since 2013! We all hope that you like the new material as much as we enjoyed the production and recording of "Judge Not".

"Judge Not" was recorded in Newcastle at Downset Base HQ with Phil Davies and played by Jonas Haagensen in the Hansen Studios. You can see BLITZKRIEG live on May 5th at Metal Bash in Hamburg.