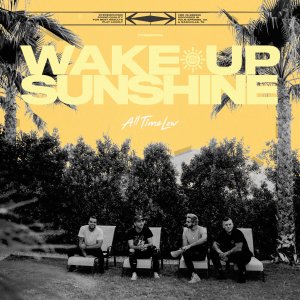 Tracklist
04
Melancholy Kaleidoscope
07
Monsters (feat. Blackbear)
08
Pretty Venom (interlude)
09
Favorite Place (feat. The Band Camino)
11
January Gloom (seasons, Pt. 1)
14
Summer Daze (seasons, Pt. 2)
Description
For "WAKE UP, SUNSHINE" the band went back to the roots (and to the basement): Over the course of 2019 the four musicians - Alex Gaskarth [vocals, guitar], Jack Barakat [guitar, vocals], Zack Merrick [bass, vocals] and Rian Dawson [drums] - gathered at Rian's studio in Nashville and a rented house in Palm Springs. Face to face, they wrote and recorded the 15 songs with co-writer, producer and creative partner Zakk Cervini. Guests include blackbear (in the song "Monsters") and The Band CAMINO (in "Favorite Place").

"WAKE UP, SUNSHINE" distils two decades of experience into a resolute and dynamic work, "We went back to where it all began," comments Alex Gaskarth. "It's been a long time since the four of us made an album under one roof. That became a central motif. We have been a band for 17 years. Everyone has contributed something. A lot of what you hear came out of those magical moments together." Jack Barakat agrees: "I think that we
have created something special together. We put our four heads together and recorded an exemplary all-time low album."

After the release of the new songs "Some Kine Of Disaster" and "Sleeping In" their new album "WAKE UP, SUNSHINE" will be released on April 3rd.