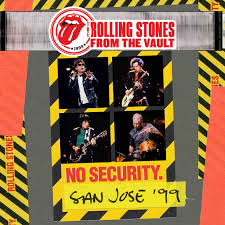 Tracklist
01
Intro (live From The San Jose Arena, California / 1999)
02
Jumpin' Jack Flash (live From The San Jose Arena, California / 1999)
03
Bitch (live From The San Jose Arena, California / 1999)
04
You Got Me Rocking (live From The San Jose Arena, California / 1999)
05
Respectable (live From The San Jose Arena, California / 1999)
06
Honky Tonk Women (live From The San Jose Arena, California / 1999)
07
I Got The Blues (live From The San Jose Arena, California / 1999)
08
Saint Of Me (live From The San Jose Arena, California / 1999)
09
Some Girls (live From The San Jose Arena, California / 1999)
10
Paint It Black (live From The San Jose Arena, California / 1999)
11
You Got The Silver (live From The San Jose Arena, California / 1999)
12
Before They Make Me Run (live From The San Jose Arena, California / 1999)
13
Out Of Control (live From The San Jose Arena, California / 1999)
14
Route 66 (live From The San Jose Arena, California / 1999)
15
Get Off Of My Cloud (live From The San Jose Arena, California / 1999)
16
Midnight Rambler (live From The San Jose Arena, California / 1999)
17
Tumbling Dice (live From The San Jose Arena, California / 1999)
18
It's Only Rock'n Roll (live From The San Jose Arena, California / 1999)
19
Start Me Up (live From The San Jose Arena, California / 1999)
20
Brown Sugar (live From The San Jose Arena, California / 1999)
21
Sympathy For The Devil (live From The San Jose Arena, California / 1999)
22
Menu / The Rolling Stones / From The Vault: No Security - San Jose 1999
Description
From The Vault: No Security records an outstanding 1999 Stones Show in San Jose.

The set list ranges from the hit singles of the Mid-Sixties to the Bridges to Babylon album, including a bluesy, dramatic version of'Midnight Rambler', a dark and ostentatious'Out of Control' and the rarely played live'Some Girls' and'Saint of Me'.

During the No Security tour, the Stones concentrated on the music and played in smaller locations, using fewer special effects and creating an unforgettable fan experience.

Released as DVD, Blu-Ray, DVD+2CD and 3LP!