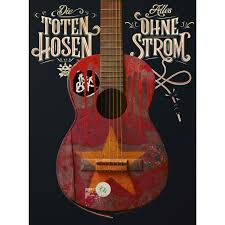 Tracklist
01
Entschuldigung, Es Tut Uns Leid!
07
Ein Guter Tag Zum Fliegen
16
Sorgenbrecher (auf Euch)
Description
Already in 2005 Die Toten Hosen let their guitar amplifiers rest for the first time and released with "Nur zu Besuch - Unplugged im Wiener Burgtheater" the recording of a purely acoustic concert.

A decade and a half and many songs later, an acoustic album and a DVD/Blu-ray of the band will be released under the title "Alles ohne Strom", but it is a further development of the old concept. It is not only about reduced, unamplified versions of their own songs, but rather about the introduction of new instruments and interpretations of the known material that have never been heard before.

The recordings were made in summer 2019 during two performances in the legendary Düsseldorf Tonhalle. The Englishman Paul Dugdale, for several years a good friend of the band, captured the special atmosphere of these two evenings with his team and made it into a film. He is regarded as an absolute luminary in the industry and has worked with the Toten Hosen as well as for the Rolling Stones, Adele, Paul McCartney and Coldplay.

The result is an acoustic roller coaster ride full of joie de vivre and joy of playing, with which the Toten Hosen surely surprise not only their own fans, but also a lot of music lovers from other styles.