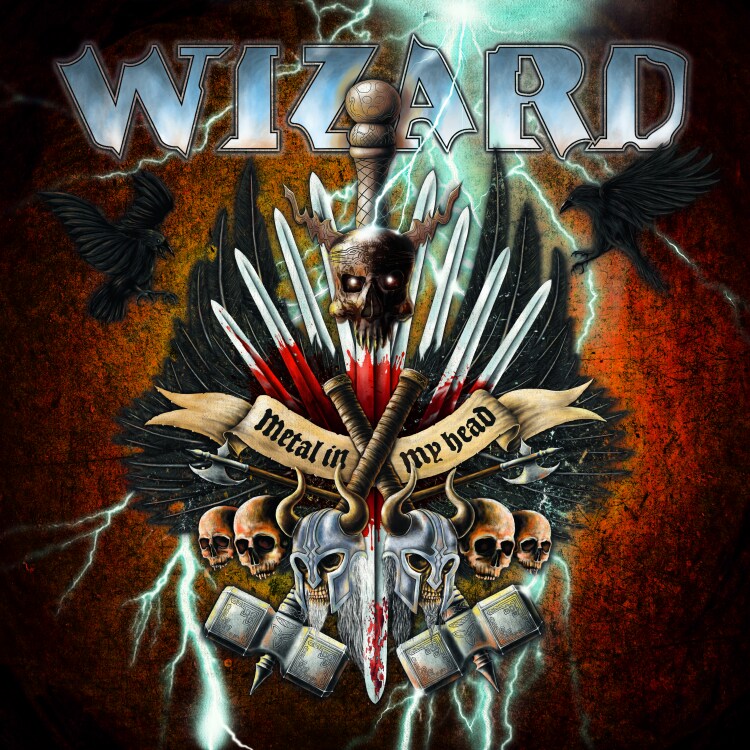 Tracklist
01
I Bring Light Into The Dark
07
Whirlewolf (feat. Gustavo Acosta)
Description
The Bocholt metal institution WIZARD announces its loud return with its 12th studio album!
Get ready for driving drums, catchy hooks and powerful choruses that invite you to shake the mat properly!
Put your fists in the air and prove that "Metal In My Head" is not just an empty phrase for you!

WIZARD present their new album "Metal In Your Head", on which Tommy Hartung (No Inner Limits) makes his debut on guitar. In terms of songwriting, the band went back to their roots and serves "pure fucking Heavy Metal" until the rind cracks.
For the new album they worked together with their old friend and producer Martin Buchwalter (Tankard, Destruction etc.), in whose hands also lay the mixing and mastering of the album. In the drum recordings you can hear the pure drums, no software was used to artificially change the sound of the drums.
Responsible for the cover artwork is Jens Reinhold, who already designed the cover of the WIZARD album "Trail Of Death".
"Metal In My Head" also includes the song "Whirlewolf" dedicated to Martjo Brongers (Vortex, Steel Shock), who passed away unexpectedly in 2019 and is sorely missed.
The album was written and recorded during the ongoing pandemic - and according to the band, with the support of a lot of Jack Daniel's Old No. 7. Since the band couldn't play live concerts, they put all their energy into the album and you can hear it!
All songs were written and arranged by WIZARD, except for "Whirlewolf". This song was written by Gustavo Acosta (FEANOR) and arranged by WIZARD. Gustavo also plays piano on the song. In addition, Gustavo Acosta wrote and arranged the intro of "I Bring Light Into The Dark".
The songs "We Fight" and "Years Of War" were written in collaboration with Marcel Schaffeld, who also had the idea for the cover artwork.