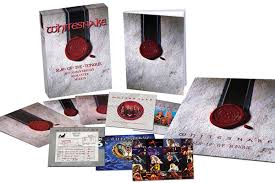 Tracklist
01
Cd1 - Original 1989 Album (2019 Remaster)
02
Cd2 - The Wagging Tongue Edition (cd Debut)
03
Cd3 - (demos/remixes/re-records)
04
Cd4: Monitor Mixes, April 1989
05
Cd5: Session Tapes, Wheezy Interludes & Jams
06
Cd6: Live At Donington 1990
07
Dvd Video - Live At Donington 1990
Description
The eighth WHITESNAKE album became their third platinum album in a row: Slip Of The Tongue . Released in November 1989, it conquered the top 10 in the UK and USA and the top 20 in Germany thanks to two top 40 hits, Fool For Your Loving and The Deeper The Love. This year the fan-loved album will be 30 years old!

After WHITESNAKE had won 8-times platinum the year before with their 1987 album ("Whitesnake" in Canada and the USA), they returned two years later with Slip Of The Tongue. The band now consisted of Coverdale, bassist Rudy Sarzo, drummer Tommy Aldridge and guitarists Adrian Vandenberg and Steve Vai. All but one song was written by Coverdale and Vandenberg, but Vandenberg couldn't record it in the studio because of a hand injury. To fill the gap, Vai joined the band for the recordings and the following tour. Slip Of The Tongue: 30th Anniversary Edition contains unreleased versions of each album track as well as the monitor mixes recorded for the album in 1989.

The set also features the CD debut of Slip Of The Tongue: The Wagging Tongue Edition , which was released exclusively as vinyl in 1989. Here Coverdale is interviewed about each song on the album, which then follows each interview passage.