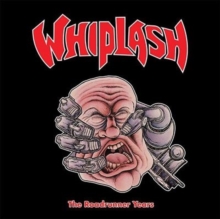 Tracklist
03
Last Nail In The Coffin
05
The Burning Of Atlanta
06
Eternal Eyes (last Nail In The Coffin, Pt.2)
10
Perpetual Warfare (reprise)
Description
30-track triple CD package from legendary US thrashers Whiplash featuring three full albums from the period 1986-1989 when the band was signed to Roadrunner Records. Housed in a deluxe digipack featuring three discs, this is the definitive document of one of Thrash Metal's most revered and admired cult bands.

CD 1 features the cult classic debut full length 'Power And Pain'. CD 2 features the classic follow up 'Ticket To Mayhem'. CD 3 features the final album before the band first split titled 'Insult To Injury', recorded with new vocalist Glenn Hansen.

Whiplash was founded in 1984 in New Jersey, led by the only constant member of the band, guitarist/vocalist Tony Portaro. Though never achieving major success, the band remained a cult favourite with fans of a rougher and more chaotic Thrash style. Original drummer Tony Scaglione notably filled in for Dave Lombardo of Slayer on the band's tour for their breakthrough album 'Reign In Blood'.

The band has been back in action touring and recording since 2009. 'The Roadrunner Years' features an extended essay from respected journalist Ian Glasper. "