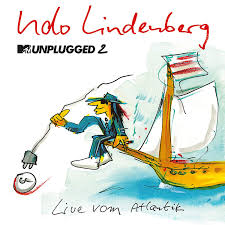 Tracklist
01
Ich Träume Oft Davon, Ein Segelboot Zu Klau'n
02
Hoch Im Norden (feat. Jan Delay)
04
Du Knallst In Mein Leben (feat. Deine Cousine)
05
Meine Erste Liebe (feat. Nathalie Dorra)
06
Radio Song (feat. Andreas Bourani)
08
Cowboy Rocker (feat. The Last Bandoleros)
10
Kleiner Junge (feat. Gentleman)
11
Wir Ziehen In Den Frieden (feat. Kids On Stage)
13
Bist Du Vom Kgb 2018 (feat. Maria Furtwängler)
14
Niemals Dran Gezweifelt
15
No More Mr. Nice Guy (so'n Ruf Musste Dir Verdienen) [feat. Alice Cooper]
16
Bananenrepublik 2018 (feat. Marteria)
18
König Von Scheißegalien 2018 (walk On The Wild Side)
20
Durch Die Schweren Zeiten (i'll Carry You) [feat. Angus & Julia Stone]
22
Alles Im Lot Auf Dem Riverboat
23
Der Astronaut Muss Weiter
27
Sternenreise (feat.jean-jacques Kravetz)
Description
MTV Unplugged 2 - Live from the Atlantic is the great testimony of an artist who is much more than a drummer, singer, lyricist, composer, entertainer, painter, enfanterrible or panic rocker. Udo Lindenberg is the clear voice in times of Confusion, the man who preaches humanity, because he himself is a man and knows life with all its ups and downs so well and has researched it so intensively as hardly anyone else. UDO - is UDO.

Beside the top-class MTV Unplugged Band, the Panik Choir and the Pustefix Brasses, some musicians of the NDR Elbphilharmonie-Orchestra in maritime outfits are on stage as well as the Kids On Stage. Again and again new guests come on board, who give the sailor a breath of fresh air: Jan Delay ("Hoch im Norden"), Andreas Bourani ("Radio Song"), Gentleman ("Kleiner Junge"), Alice Cooper ("No More Mr. Nice Guy (So'n Ruf musste dir verdienen)"), Marteria ("Bananrepublik 2018") and Maria Furtwängler ("Bis Du vom KGB 2018"), who shines for the first time as a singer and shows great talent. Other fellow travellers include the Tex-Mex formation The Last Bandoleros ("Cowboy Rocker") and, as one of the many highlights, the Australian siblings Angus & Julia Stone ("Durch die schweren Zeiten (I'll Carry You)"). And of course the legendary panic orchestra with three songs is also there.

MTV Unplugged 2 - Live vom Atlantik will be released as 2CD, 4LP-Vinyl-Box, 2DVD, Blu-ray, 2CD/2DVD and 2CD/Blu-ray via Warner Music on 14.12.2018.