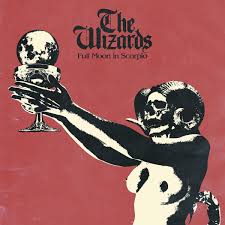 Tracklist
02
Calliope (cosmic Revelations)
05
Leaving The Past Behind
07
Who Are You, Mr. Gurdjieff?
Description
The "Occult Heavy Metal Warriors" from Bilbao are without question on the right track for their mission. This can already be seen in songs like "Calliope (Cosmic Revelation)", "Stardust" and "Halftones To Eternity" from their second album "Full Moon In Scorpio" (originally released in 2017 as a limited edition on Fighter Records and now available as a new edition on High Roller Records). After the first 4-track demo in February 2014 the band started to expand their live activities with numerous gigs in Spain but also in France, Portugal and Germany.

With their mixture of traditional heavy metal, classical hard rock and a little hocus-pocus, The Wizards hit the current zeitgeist right between the eyes. This is proven by the resounding success of their three studio albums to date: "The Wizards" (2015), "Full Moon In Scorpio" (2017) and "Rise Of The Serpent" (2018).