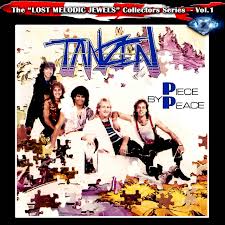 Tracklist
10
Walk Away (bonus Track)
11
Candid Dreams (bonus Track)
12
Change (2017 Version) (bonus Track)
13
Chains Of Love (2017 Version) (bonus Track)-
Description
Produced by former APRIL WINE guitarist Gary Moffet and MINDSTORM producer Bill Szawlowski
, back in 1986, "Piece by Peace" is the debut (and unique) album of the Canadian band TANZEN, featuring an incredible Classic '80s AOR / Melodic Rock comparable to bands like SURGIN, early BON JOVI, NIGHT RANGER and BRIAN ADAMS (with the addition of some Van Halen-esque guitar and keyboards parts)!

- Originally released only on cassette-tape, the album has been now lovingly restored from the original master tapes, with the addition of four newly recorded bonus-tracks by the original line-up!

-Released on the usual strictly Limited Edition CD of 500 copies, with a 16 pages full color booklet telling the whole story of the band (previously named LONDON) with the extensive liner-notes written
by one and only journalist Rob Evans, TANZEN might easily be considered as one of Canada's best kept secrets in Rock!

This is the FIRST Volume of "LOST MELODIC JEWELS",a BRAND NEW Series that - keeping the same concept, graphics and attitude of its twins "Lost U.K. Jewels" and "Lost U.S. Jewels" - will release never heard or long timehidden treasures of the worldwide Melodic Rock / AOR Scene.