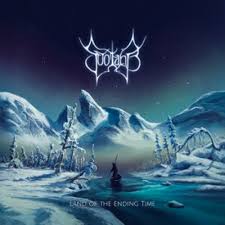 Tracklist
09
Land Of The Ending Time
Description
Melodic death metal, melodic black metal borrowings and a dash of power metal - this is the recipe for success of the Finns from SUOTANA. Originally founded in 2005 as a solo project by guitarist Ville Rautio, the sextet was soon expanded to include Pasi Portaankorva and completed in 2012 and 2013 by Harri Portimo, Jari Körkkö, Juhani Merkkiniemi and Rauli Juopperi.

Both the first demo release "Forgotten Soil Of This Land'' in February 2014 and the debut album "Frostrealm", released in November 2015, sparked a veritable fire of enthusiasm among scene experts and critics alike!

The steep upward trend of SUOTANA was not interrupted by some line-up changes after the debut. Quite the contrary: It quickly became clear that the creative alliance of the classically experienced new keyboardist Tommi Neitola and the newcomer to the microphone, Tuomo
Marttinen, which would give the band sound even more depth and variety. Full of energy and with a crystal-clear vision in mind, the six-pack threw itself into the work on the "Frostrealm".
follower.

And it's just that one that's got it in him! Music and cover artwork interweave in an artistic way and draw an impressive portrait of vast, deserted winter landscapes, whose gloomy atmosphere of oppressive loneliness runs through the entire work like a heavy, dark band. These guiding themes were also taken up and deepened in the context of a high-class video clip produced in the midst of the seclusion of the Nordic cold desert.

Now that SUOTANA are proud members of the Reaper Entertainment family, nothing more stands in the way of the release of the new album entitled "Land Of The Ending Time" on May 25, 2018!