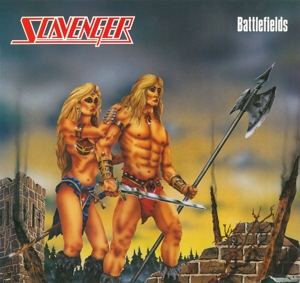 Description
Golden Core have already re-released eight classics from the cult Mausoleum label with Cutty Sark, Saints' Anger, Witchfynde, Wildfire and Dark Wizard with success and many good reviews. Actually, the series would have been completed here if the Belgian band SCAVENGER had not expressed the explicit wish that Golden Core should also make their album, "Battlefields" from 1985, newly available to fans in the same way. The new owner of the Mausoleum catalog agreed and nothing stood in the way.
Scavenger are active again, but without original member since February 2020. Instead, the young and very strong new line-up around singer Tine Callebaut has been properly trained by the "old ones". A first single already caused enthusiasm and a new album is on the way. In order to keep the connection to the old days, Scavenger actively worked on the re-release of "Battlefields", the only album of the original line-up. So they donated the demo from 1982, which was still released under the name Deep Throat and is of course extremely rare today. A second generation tape copy was reworked as good as possible by Neudi (Golden Core Rec., Manilla Road, Trance, etc.) and shows a group that was still deeply rooted in 70s hard rock in 1982. Furthermore you can find various live tracks, which are really "for fans only" in terms of sound, but still perfectly reflect the spirit of the times as a CD bonus. The LP version contains only the album "Battlefields" for sound technical reasons.
For both formats, the Mausoleum-Classix CD was not taken, but a new vinyl transfer was commissioned by Patrick W. Engel, which was subsequently remastered by Neudi. For the LP, Vadim Kulin (ZYX Studio) made a separate vinyl master. The booklet and LP inlay contains many rare photos, liner notes (exclusive interview with the band), memorabilia, and scans and image of the original LP.
In 1985, Scavenger skillfully walked between pure European-style power metal and catchy but always powerful heavy metal. No wonder that today the album is considered one of THE classics of Euro Metal.