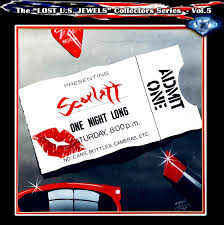 Tracklist
06
Kissing Me Goodbye (from "one Night Long" Cassette - 1988)
09
Just A Memory (1990 Studio-tracks - Unreleased Versions)
10
Comin' At You (1990 Studio-track Off The "comin' At You" Cassette)
14
Follow Your Heart (unreleased Studiotracks - 1991)
Description
Lost U.S. Jewles Series Vol. 5

The Lost U.S. Jewels Series takes care of the 1988 cassette-only debut album "One Night Long" by the Sacramento band Scarlett. The self-distributed debut album enthused fans as well as critics, but somehow the scene was already so saturated that such a high quality album couldn't prevail any longer. Two more demos followed, but since no label showed interest here either, the end of this brilliant band was decided. Fans of the 80's US Hard Rocks /Metals a la RATT, DOKKEN, STEELHEART & MALICE have to access here.

Limited Edition 500 pieces!