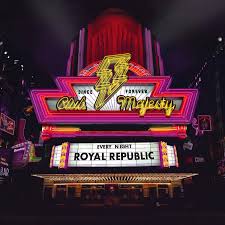 Description
ROYAL REPUBLIC do not believe in so-called 'guilty pleasures' - just pure pleasure - completely free of compromise. Since meeting at the Malmö Academy of Music in 2007, they have become Sweden's most sought-after rock'n'roll export. Riffy guitars mixed with fat tunes and turbo loaded beats with their very own, versatile and unique joie de vivre. Plus chic and smart suits their contemporaries wish would suit them as well as they do. This is Rock'N'Roll that throws you onto the dance floor and lets you dance as if you had just won the lottery.

And yet the question about the 'guilty pleasures' keeps coming up. You can't play in a hard rock band and listen to 70s disco, jazz and pop or METALLICA and CANNIBAL CORPSE in the tour bus and certainly not the SPICE GIRLS or the BACKSTREET BOYS... or is it?

Where "Weekend Man" defined their identity, "Club Majesty" picks up that very sound and pushes it to the top. Over the last year, written and recorded at the band's headquarters in Malmö, it has been loaded with 'secret pleasure' - in an absolutely innocent manner. It's an album for the dance floor and the mosh pit, where rock guitars meet drums and infectious choruses, fluttering rhythms and saxophone (the latter was recorded when Grahn had only a month's experience on the instrument).

When you celebrate ROYAL REPUBLIC you will love "Club Majesty". And for uninitiated rock fans, pop lovers and metal heads or otherwise - you're just in time. Be welcome all of you and save a bit closer...