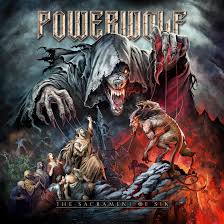 Tracklist
02
Demons Are A Girl's Best Friend
03
Killers With The Cross
05
Where The Wild Wolves Have Gone
11
Fist By Fist (sacralize Or Strike)
Description
The most successful German metal band of today is back!

After Powerwolf fought tirelessly and with gallons of lifeblood all the way to the top two records at number one in the German record charts (and another album at number one.3) and everywhere there were sold out halls and electrified fan masses, now a new rousing chapter opened: "The Sacrament Of Sin has a smooth dozen metal psalms ready for eternity!

The result is the most diverse Powerwolf album to date, which offers many fiery surprises.but at the same time breathes the unmistakable Wolfs spirit at every second! So with Where The Wild Wolves Have Gone represented the first ballad in the band's history - and in reverse with Nightside Of Siberia one of the hardest tracks of the whole discography. incentive. And Iron with his folk elements and hymn-like catchiness must simply be part of the present Setlists; and the epic albumopener Fire & Forgive mixes infectious melodies with violent. Shredding. "The Sacrament Of Sin" shows at the same time compositional slickness and untamed wildness - and once again proves why Powerwolf are the undisputed high priests of metal!