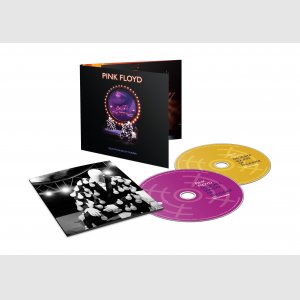 Tracklist
01
Shine On You Crazy Diamond, Parts 1-5
04
The Great Gig In The Sky*
06
Welcome To The Machine*
09
Another Brick In The Wall, Part2
Description
Filmed at the Nassau Coliseum in Long Island in August 1988 under the direction of Wayne Isham, the 2020 release of the Grammy-nominated Delicate Sound Of Thunder was viewed directly from over 100 cans of original 35mm film negatives, meticulously restored, transferred to 4K and completely re-edited from restored and modernized footage by Benny Trickett, under the creative direction of Aubrey Powell/Hipgnosis.

The sound was also completely remixed from the original multitrack tapes under the aegis of long-time Pink Floyd sound engineer Andy Jackson with Pink Floyd's David Gilmour and the assistance of Damon Iddins.

The setlist is a balance of then new material and Pink Floyd classics, including songs from Dark Side Of The Moon ( Time, On The Run, The Great Gig In The Sky and Us And Them ), the hymnal title track of Wish You Were Here , The Wall's Comfortably Numb and a cathartic Run Like Hell . The 2-CD version contains all the songs from A
Momentary Lapse Of Reason, including the powerful Learning To Fly, the lyrical On The Turning Away and the hypnotic Sorrow .

Delicate Sound of Thunder showcases the creative power of David Gilmour, Nick Mason and Richard Wright at their rebellious peak - an album like an uplifting and captivating event that will make every fan of rock music's heart beat faster.