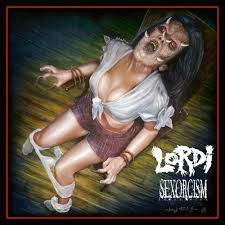 Tracklist
02
Your Tongue's Got The Cat
05
The Beast Is Yet To Cum
07
Scg9: The Documented Phenomenon
Description
The Finnish hard rock and melodic heavy metal band LORDI was founded in 1992 by the singer, songwriter, Visual artist and costume designer Mr. Lordi. The band is responsible for their monster outfits and horror elements in their stage shows and music videos. With catchy songs and the creepy texts are burned into the listener's brain, whether you like it or not. LORDI's brazen and shameless combination of 80s melodic heavy metal and the abominable horror image immediately secured the band's attention of the rock world and genre fans worldwide. The band's live shows are notorious for their horror-film-like performances and the bombastic use of pyrotechnics.LORDI took part in the Eurovision Song Contest in 2006, and won this contest as the first and only Finnish band, and the band broke all previous records in the history of the Eurovision Song Contest. The third album "The
Arockalypse" was released in the same period, on this are idols of the band, like Udo Dirkschneider (Accept,U.D.O.), Bruce Kulick (ex-KISS), Dee Snider and Jay Jay French (Twisted Sister). The overwhelming success of the ESC single "Hard Rock Hallelujah" made LORDI for unimagined heights of media attention, recognition by the fans and a success that opened completely new doors for the band.

LORDI will release their ninth studio album "Sexorcism" on May 25, 2018, probably the most controversial album in the band's history so far. Finnvox Studios by Mikko Karmila, who also produced the 2014 album "Scare Force One".