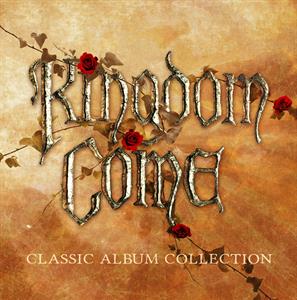 Tracklist
11
Get It On (single Edit)
12
What Love Can Be (single Edit)
13
Helping Hand (non-lp B-side)
14
What Love Can Be (radio One Edit)
04
Gotta Go (can't Wage A War)
11
Slow Down (non-lp B-side)
12
The Perfect 'o' (live)
14
Inc A Word From Lenny (hidden Track)
08
You're Not The Only...i Know
Description
Get It On: 1988-1991 - Classic Album Collection, is a remastered three CD box set of Kingdom Come's first three, and most celebrated albums - Kingdom Come, In Your Face and Hands Of Time. Originally released on PolyGram between 1988 and 1991, this exclusive set is fully remastered and contains bonus material.

Released via Caroline International on 17 May 2019, the new box also contains a booklet of extended new sleeve notes from the renowned and celebrated rock journalist Malcolm Dome.

Kingdom Come are an American/German heavy metal/hard rock band that originally formed in 1987. Fronted by singer Lenny Wolf who was their singer and principle songwriter until their hiatus in 2016.

In 1988, the band released its debut LP, Kingdom Come which shot them to international fame and they became one of the most renowned rock bands in the world. The band's first single, 'Get It On,' was a big enough hit on AOR stations that the band's eponymous debut went gold the day it was shipped.