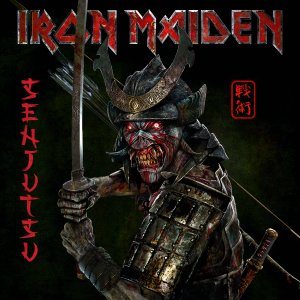 Tracklist
03
The Writing On The Wall
01
The Writing On The Wall
02
The Writing On The Wall (sfx Version)
03
The Writing On The Wall (making Of)
Description
Parlophone Records announces the release of IRON MAIDEN's 17th studio album.

"Senjutsu" will be released September 3. It was recorded in Paris with longtime producer Kevin Shirley and co-produced by Steve Harris. It was preceded on Thursday, July 15, by the already widely acclaimed animated video for the
first single "The Writing On The Wall" , produced by BlinkInk based on a concept by Bruce Dickinson with two former Pixar executives. This follows a month-long teaser campaign and worldwide treasure hunt' for clues to the track's title and concept.

For "Senjutsu" - loosely translated as 'Tactics and Strategy' - the band once again enlisted the services of Mark Wilkinson to create the spectacular samurai-themed cover artwork based on an idea by Steve Harris. With a playing time of just under 82 minutes, "Senjutsu" , like the previous disc "The Book Of Souls?", will be a double CD and triple vinyl album.

Iron Maiden in a nutshell: IRON MAIDEN stand for more than 100 million albums sold , more than 2000 live shows in 63 countries, millions of fans worldwide and 16 top-class studio albums , the last of which so far, 2015's "The Book Of Souls", was their very first double studio album and also the most successfully charted - entering at #1 in more than 43 countries.