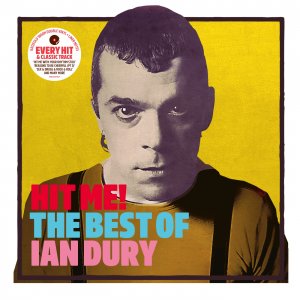 Tracklist
01
Sex & Drugs & Rock & Roll
02
Wake Up And Make Love With Me
07
I'm Partial To Your Abracadabra
13
Billy Bentley (promenades Himself In London)
15
The Mumble Rumble And The Cocktail Rock
01
Reasons To Be Cheerful, Pt. 3 (12? Version)
02
Hit Me With Your Rhythm Stick
07
There Ain't Half Been Some Clever Bastards
13
Dance Of The Screamers
03
Sueperman's Big Sister
04
Spasticus Autisticus (live)
08
Dance Of The Crackpots
16
England's Glory (demo)
Description
On October 16, BMG will release "Hit Me! The Best Of Ian Dury", a newly compiled compilation curated in close collaboration with Ian Dury's heirs. It is a collection of Dury's greatest hits and more, a stunning selection of tracks from Ian's solo career, Ian Dury & The Blockheads and Kilburn & The High Roads.

In August 1977, a 35-year-old Ian Dury released his first solo record, a 7-inch vinyl single whose title Sex & Drugs & Rock & Roll became an everyday term and is still an essential part of our vocabulary today. Within the next two years Dury's debut album New Boots and Panties would spend 89 (!!) weeks in the British album charts. His third single hit Me With Your Rhythm Stick became number one in the UK in January 1979 and
sold an incredible 970,000 copies. When Ian Dury lost his life to cancer in 2000 at the age of 57, he left the world as one of the great songwriters of the 20th century, a man who struggled with enormous disabilities and adversity to be recognized as a national treasure.

Hit Me! The Best Of Ian Dury are 50 songs as 3CD set or on double LP in white vinyl with 20 songs. Sleevenotes were provided by Blockhead's adopted singer Phill Jupitus.