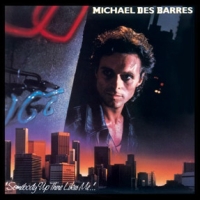 Tracklist
03
Is There Someone Else?
04
Everything Reminds Me Of You
06
Somebody Up There Likes Me
08
Locked In The Cage Of Love
10
Thinking With Your Body
Description
2013, Rising to prominence firstly in the 60s as a budding young TV and theatre actor before becoming the frontman with proto-Glam rock troupe Silverhead, Michael Des Barres, of course, subsequently formed the Led Zeppelin approved Detective before reemerging as a solo artist in the 80s with a Mike Chapman produced album entitled 'I'm Only Human'. He then enjoyed stints with Chequered Past and The Power Station before making a complete 360 degree turn and returned to the world of acting by appearing in highly rated US TV shows such as 'MacGyver', 'Melrose Place' and 'Roseanne', having already made in-roads into TV work with roles in various episodes of 'Miami Vice', 'Hart To Hart', Cagney & Lacey' and 'St. Elsewhere' in the early 80s. Originally released by MCA/Gold Mountain Records in 1986, 'Somebody Up There Likes Me' was a record made during a very happy period in Michael's life, the great man having the stability both financially and professionally to make the album he wanted to make. Produced and arranged by Bob Rose (Todd Rundgren, The Beach Boys), Des Barres was backed-up by an outstanding band including high profiled session drummer Jim Keltner, guitar players Steve Jones (Sex Pistols) and Andy Taylor (Duran Duran) and bass player Phil Chen (Jeff Beck, Rod Stewart). Remastered version for the first time ever on CD.