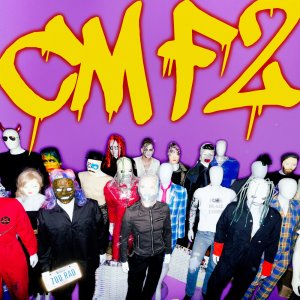 Tracklist
02
Post Traumatic Blues 5:43
04
Breath Of Fresh Smoke 3:49
11
Someday I'll Change Your Mind 4:22
12
All I Want Is Hate 3:21
Description
GRAMMY Award-winning, multi-platinum singer-songwriter, actor and New York Times bestselling author Corey Taylor (Slipknot, Stone Sour) reveals details about his new solo studio album CMF2. CMF2 is the follow-up to Taylor's 2020 solo debut CMFT, which featured the No. 1 Billboard mainstream rock single "Black Eyes Blue" and the streaming sensation "CMFT Must Be Stopped" (feat.Tech N9ne and Kid Bookie). The album reached number six on the US Billboard Top Rock Album charts and #9 on the German album charts.

"My first solo album was a reflection of where I was coming from. This album is more of where we're going," Taylor adds. CMF2 - on which Taylor sings and plays lead and rhythm guitar, piano and mandolin - encapsulates the energy, experimentation and immediacy that define a career that has seen Taylor and his Grammy-winning band Slipknot more than has sold twelve million albums and millions more with the chart-toppers Stone Sour.

CMF2 is Taylor's first album for BMG and the first on his own label, Decibel Cooper Recordings. Jay Ruston (Anthrax, Steel Panther, Amon Amarth), who produced both Stone Sour's 2017 album Hydrograd and CMFT, returned for Taylor's second album.