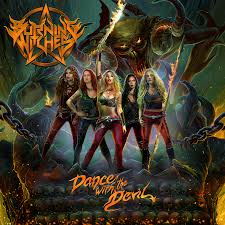 Tracklist
12
Battle Hymn Feat. Ross The Boss & Michael Lepond
Description
Firstly, BURNING WITCHES are an all-female band clad in jeans and leather. A band feverishly committed to the true, real, galloping thunder of traditional heavy metal. Secondly, they are an inseparable unit, an alliance whose all-weekly Thursday rehearsal is their innermost sanctum. Their holiest rite that they simply never miss, with their rehearsal space being their cathedral.

Their third record is embodies the momentum of its predecessor and their countless live shows, propelling their sound onto a whole new level. The opening force of 'Lucid Nightmare' is accelerates at breakneck speed, riff bombardment and double-bass fire; 'Dance With The Devil' is a massively steel-plated stomper with bewitching melodies; the first single 'Wings Of Steel' sounds as massive as its name; 'Black Magic' could have been written by JEFFERSON AIRPLANE and the viciously thundering 'Sea Of Lies' simply is one of the best heavy metal songs 2020 will have to offer.

Rejoice, you people who consider a leather jacket to be the perfect garment for all occasions: BURNING WITCHES remain the prominent force of heavy metal. »Dance With The Devil« is a fiery metal manifesto, radiating a delight with every note and every uttered word by new vocalist Laura Guldemond. With her, the Swiss ladies hit the bullseye. Not only is she the perfect addition to their ranks personality-wise, she's also a vocal tornado covering everything from aggressive to melodic, triumphant, seductive and menacing in a second, ultimately crowning this third album with vocal grandeur. This band never sounded so deep, so convincing, so full of energy. And yet you get the feeling that this is still only the beginning...