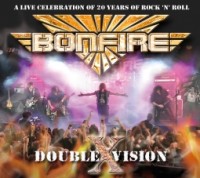 Description
2007, Bonfire's latest live DVD/CD "Double Vision" BONFIRE was recorded during "Double X Anniversary Tour" in England in November 2006. The legendary Firefest festival provided the setting for this extraordinary concert of the fi ve guys from Ingolstadt, who defi nitely rocked Nottingham's time-honoured club "Rock City".
The thunderous opener "Day 911", taken from the recent album "Double X", represented the prelude to a very special event. 8 cameras captured every move of the band as well as the fans' ecstatic rapture. Picture and sound were recorded perfectly. After the editing process, the pristine picture quality and the crystal clear and
powerful sound exceeded all expectations by far. Already the second song "But We Still Rock" made the crowd go crazy. CLAUS LESSMANN (vocals), HANS ZILLER (lead guitar), UWE KÖHLER (bass), JÜRGEN WIEHLER (drums) and CHRIS LIMBURG (guitar) apparently had tons of fun and blew away the fans with all their timeless classics such as "Don't Touch The Light", "Sweet Obsession", "Give It A Try" as well as new material. The show's climax was - of course - the legendary "Ready 4 Reaction". These guys still know how to kick major ass!
The fantastic camera work, the precise editing and the fl awless sound quality take the show's very special atmosphere right into your living-room. Plus - there's plenty of bonus included on the DVD - for example the previously unreleased concert "Rock gegen Rechts" from 2002 which was recorded by the WDR (ROCKPALAST).
This impressive DVD is an absolute must-have for all of the band's fans and also represents a great introduction for all those who want to get a fi rst taste of "Melodic Rock made in Ingolstadt". Please note that the concert will also be available on audio CD.