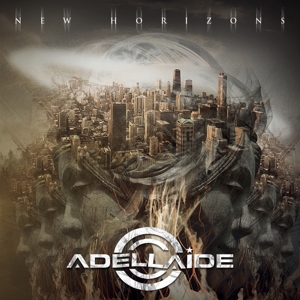 Tracklist
04
Tonight (once In A Lifetime)
07
It's Just A Matter Of Time
Description
Adellaide began its activities in 2016, when Daniel Vargas (Vocals) left the "Horyzon" band and invited Ale Nammur, Claudio Nammur and Alek Ribet for the project. An eponymous EP was recorded with the entrance of Leandro Freitas (Keyboards) that gained great attention from the public and the press and in 2017, with the entrance of Cadu Yamazaki (Bass), the band released the debut album that was called "Flying High "and released on physical CD along with digital streaming worldwide on October 31, 2017 by the European label company: "Lions Pride Music". Both albums were recorded in the "IMF" (Musical Institute Falaschi) while the production was by "Tito Falaschi", brother of "Edu Falaschi", former vocalist of "Angra" and Ale Nammur.

The covers of the two albums were idealized by artist "Joey Polycarpo" (known musically as Joey Summer), who worked with well-known names in the genre as the "A.O.R". project "Frederic Slama", "Goran Edman", "Chasing Violets" and many others, where the same had a large number of sales being cited as featured in the magazine "BURRN!".

The Band has two video clips: "Save Your Love and Learn to Live" available on the "Sony Music" / Vevo platform.

In 2018 there was a reformulation of the members, counting on the entrance of Herbert Loureiro (Drums) and Vitor Balconi (Guitar).

The European Label "Lions Pride Music" renewed its contract with the band for the release of the next album "New Horizons" for the month of November 2019, with the same professionals involved (Tito Falaschi production and Joey Polycarpo graphic art).