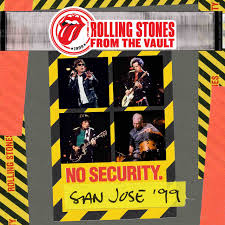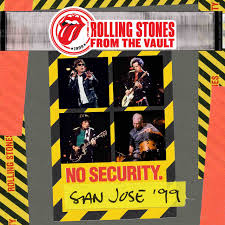 Rolling Stones
From The Vault: No Security - San Jose 1999 (Live)
Format:

2CD+DVD

Style:

Hard Rock

Release:

13.07.2018

Art-Nr.:

CD20171

Label:

Universal

Verfügbar:

10 Stück
Tracklist
01
Intro (live From The San Jose Arena, California / 1999)
02
Jumpin' Jack Flash (live From The San Jose Arena, California / 1999)
03
Bitch (live From The San Jose Arena, California / 1999)
04
You Got Me Rocking (live From The San Jose Arena, California / 1999)
05
Respectable (live From The San Jose Arena, California / 1999)
06
Honky Tonk Women (live From The San Jose Arena, California / 1999)
07
I Got The Blues (live From The San Jose Arena, California / 1999)
08
Saint Of Me (live From The San Jose Arena, California / 1999)
09
Some Girls (live From The San Jose Arena, California / 1999)
10
Paint It Black (live From The San Jose Arena, California / 1999)
11
You Got The Silver (live From The San Jose Arena, California / 1999)
12
Before They Make Me Run (live From The San Jose Arena, California / 1999)
13
Out Of Control (live From The San Jose Arena, California / 1999)
14
Route 66 (live From The San Jose Arena, California / 1999)
15
Get Off Of My Cloud (live From The San Jose Arena, California / 1999)
16
Midnight Rambler (live From The San Jose Arena, California / 1999)
17
Tumbling Dice (live From The San Jose Arena, California / 1999)
18
It's Only Rock'n Roll (live From The San Jose Arena, California / 1999)
19
Start Me Up (live From The San Jose Arena, California / 1999)
20
Brown Sugar (live From The San Jose Arena, California / 1999)
21
Sympathy For The Devil (live From The San Jose Arena, California / 1999)
22
Menu / The Rolling Stones / From The Vault: No Security - San Jose 1999
01
Jumpin' Jack Flash (live From The San Jose Arena, California / 1999)
02
Bitch (live From The San Jose Arena, California / 1999)
03
You Got Me Rocking (live From The San Jose Arena, California / 1999)
04
Respectable (live From The San Jose Arena, California / 1999)
05
Honky Tonk Women (live From The San Jose Arena, California / 1999)
06
I Got The Blues (live From The San Jose Arena, California / 1999)
07
Saint Of Me (live From The San Jose Arena, California / 1999)
08
Some Girls (live From The San Jose Arena, California / 1999)
09
Paint It Black (live From The San Jose Arena, California / 1999)
10
You Got The Silver (live From The San Jose Arena, California / 1999)
11
Before They Make Me Run (live From The San Jose Arena, California / 1999)
01
Out Of Control (live From The San Jose Arena, California / 1999)
02
Route 66 (live From The San Jose Arena, California / 1999)
03
Get Off Of My Cloud (live From The San Jose Arena, California / 1999)
04
Midnight Rambler (live From The San Jose Arena, California / 1999)
05
Tumbling Dice (live From The San Jose Arena, California / 1999)
06
It's Only Rock 'n Roll (live From The San Jose Arena, California / 1999)
07
Start Me Up (live From The San Jose Arena, California / 1999)
08
Brown Sugar (live From The San Jose Arena, California / 1999)
09
Sympathy For The Devil (live From The San Jose Arena, California / 1999)
Beschreibung
From The Vault: No Security hält eine herausragende Stones Show in San Jose aus dem Jahre 1999 fest.

Die Set-Liste reicht von den Hit-Singles der Mid-Sixties bis zum Bridges to Babylon Album, inklusive einer bluesigen, dramatischen Version von 'Midnight Rambler', einem dunklen und protzigen 'Out of Control' und den selten live gespielten 'Some Girls' und 'Saint of Me'.

Bei der No Security-Tour konzentrierten sich die Stones auf die Musik und spielten in kleineren Locations, verwendeten weniger Spezialeffekte und sorgten für ein unvergessliches Fan-Erlebnis.

Erscheint als DVD, Blu-Ray, DVD+2CD und 3LP!