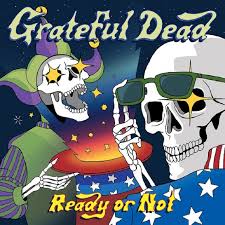 Tracklist
01
Liberty - Madison Square Garden, New York, Ny (10/14/94)
02
Eternity - The Pyramid, Memphis, Tn (4/2/95)
03
Lazy River Road - Dean Smith Center, University Of North Carolina, Chapel Hill, Nc (3/25/93)
04
Samba In The Rain - The Omni, Atlanta, Ga (3/30/95)
05
So Many Roads - Star Lake Amphitheatre, Burgettstown, Pa (6/23/92)
06
Way To Go Home - Deer Creek Music Center, Noblesville, In (6/28/92)
07
Corrina - Madison Square Garden, New York, Ny (10/14/94)
08
Easy Answers - Spectrum, Philadelphia, Pa (9/13/93)
09
Days Between - Oakland-alameda County Coliseum, Oakland, Ca (12/11/94)
Description
Ready Or Not - the new Live Collection with 9 unreleased songs that could have been Grateful Dead's next studio album!

Although the legendary Grateful Dead released their last studio album in 1989, they remained restless and wrote countless new songs. Unfortunately, the band did not manage to record these songs in the studio before Jerry Garcia's death in 1995.
finalize.

Ready Or Not now picks up all these songs and brings fans with incredible live versions of the album, which could have been Grateful Dead's "next" studio album.