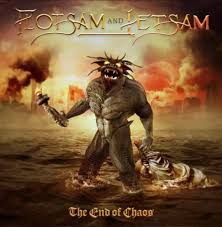 Description
The veterans from Arizona are about to release their 13th studio album - supported by their respectable mascot "Flotzilla", which first returns since 1986 (then on the cover of "Doomsday For The Deceiver") with a loud bang on the apocalyptic cover of the new album "The End Of Chaos". The band put a lot of effort and sweat into the songwriting. Developed are 12 inimitably powerful and thrashy songs whose hooks and vocal melodies are catchy.

The line up was completed by drummer Ken Mary (ex-Alice Cooper, Fifth Angel) at the beginning of 2018. Soon after the release of the record, the group started their concert tour with Overkill and Destruction in Europe and as headliner in the States.

This time Jacob Hansen (Volbeat, Amaranthe, Powerwolf, U.D.O. etc.) took over the refinement of the album. Bassist Michael Spencer says: "I am glad that Jacob Hansen brought this album to such a level of energy and gave it this sound. Jacob really emphasizes AK's vocal melodies and supports Steve and Michael's songwriting as well as the power of the rhythm section that pushes the songs forward".

New band member Ken Mary also says: "This album will knock you out! Each of us 5 pushes the gas pedal over the whole album to the bottom!" Listen for yourself and you will agree!