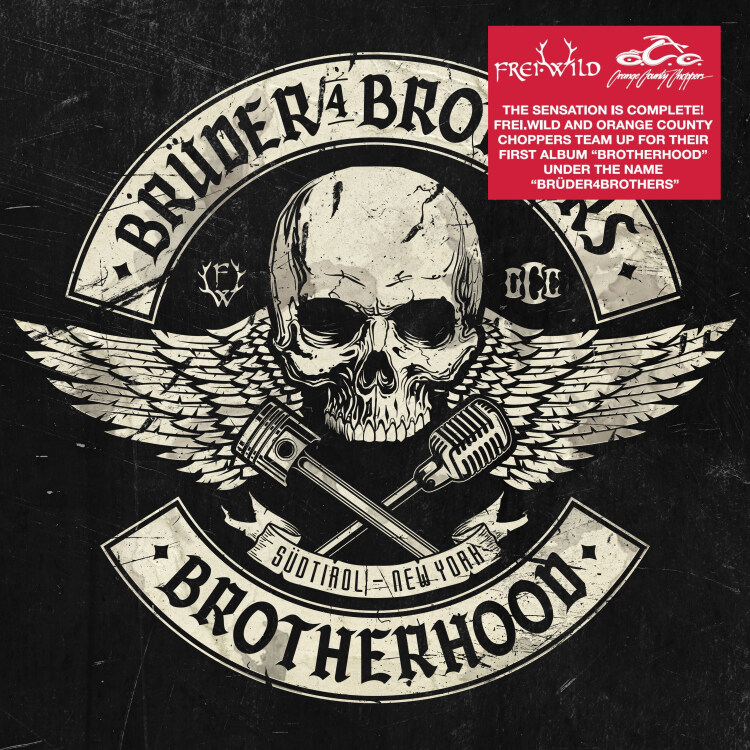 Tracklist
03
Freundschaft Brotherhood
09
The True Feeling Of Freedom
10
Don't Get Better Than This
Description
The legendary custom motorcycle manufacturers of Orange County Choppers (OCC) and FREI.WILD, one of the most successful German-speaking rock bands of these days, have joined forces to form the project "Brüder4Brothers", which connects two continents in the spirit of music.

German-American friendship... yeah, there are old familiar things. But if we swap the word "German" for South Tyrol/Italy and lump the probably most successful TV biker gang together with the probably most discussed German rock band, this results in a truly very interesting recipe, a musical top dish.

Voila`, dinner is served: "Brueder4Brothers", the name of the cross-border project of the American custom bike manufacturer Orange County Choppers (OCC) and Frei.Wild, starts its advance sale on all continents on 03.04.2020. The album itself is called "Brotherhood" and combines the instruments and voices of all participants, including both musicians who are friends.

It's true, a joint music album of a German-speaking rock band and an American motorcycle company may seem a bit strange at first sight. But Frei.Wild are one of the most successful German rock bands with countless gold and platinum awards and several number one albums in a row, while OCC are known to an audience of millions worldwide through their extravagant motorcycles and their own TV show "American Chopper". What is not so well-known, however, is that both are connected by a long-standing friendship and that they share their continents again and again, as well as events and trips. Exactly this friendship, paired with a lot of fun experienced in the USA and Southern Europe, now led to the common project called "Brueder4Brothers". And the accompanying debut album "Brotherhood".
At the latest with the first playing of the album all doubts disappear. As different as the primary activities of Frei.Wild and OCC may be, they agree on the basic values: freedom, friendship, life dreams, wanderlust, tradition and honest handwork are at the top of their list and unite the men at their tools and electric guitars.

Exactly these virtues inspired the first work "Brotherhood" and so it is not surprising why "Brotherhood" sounds so honest, also so international and above all authentic. The music lives from the catchy melodies and guitars typical for Frei.Wild, as well as from the voices of Paul, Mikey, Alex and Philipp. The whole thing is refreshed with many typical American influences - especially country tunes and production refinements. "Brueder4Brothers" manages from the first note to create a head cinema with the endless expanses of the United States, but also European influences. Press the accelerator pedal, ride towards the sunset and feel the wind. No question, the songs, some of which are sung alternately in English and German, smell of adventure and pure lust for life.